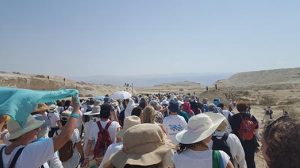 Yesterday I was in the most moving event ever of my life. It took place in the Dead Sea. Organised by Women Wage Peace (www.womenwagepeace.org.il/en) who are deadly serious about bringing a final peace agreement to Israel and Palestine, this was to be the final big event after 14 days of Marching all through Israel, designing various events in many places, North, South, West and East. What Women Wage Peace tries to do is to bring women together from all areas of life – Arab, Palestinian, Settler, liberal Israelis…. And all the various mixed colours you get in between in a place like Israel that has such a mixed population due to its complex history and that is surrounded by many Arab countries…
I went with my good friend Yael Treidel who is one of the main organizers of this movement early to the place where the event was going to start. It was in the socalled Area C, controlled and militarily secured by Israeli government and where all the Jewish (illegal) settlements are. The only place where Israelis and Palestinians can meet without the Palestinians needing permits…. We were taken there by bus, the road was secured by Israeli Army and Police.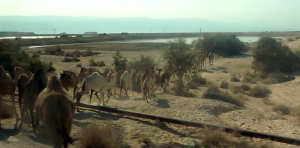 At one point the bus had to stop as a herd of camels were crossing the road…. Now we had arrived in the desert for sure…. And we were 400 metres below sea level not far from the Dead Sea. As we arrived a beautiful beige tent greeted us. People inside were ready for the thousands of women to arrive soon by bus. The landscape around us was stunning, hills and mountains of sand in beautiful formations overlooking hazy hills of more desert.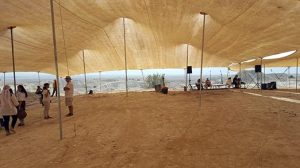 The heat reflected the fact that we were in the desert, it mid-morning and already 35 degrees. Then the first buses started to arrive. President Mahmud Abbas had allowed the Palestinian women to join the March, so about 3000 Palestinian women were expected to arrive. When they started to enter the tent, all of them dressed in their most beautiful outfits, I was overwhelmed. Something happened deep inside me, that I did not expect. I am not Israeli, nor Arab, nor really personally effected by this long-enduring conflict here. But when they came in, and were welcomed by the Women Wage Peace organisers and all of us who were already in the tent, something beyond words happened.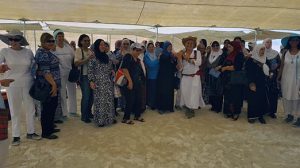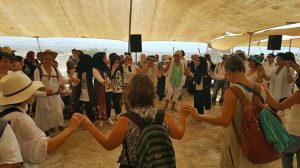 There was so much joy, such deepfelt connection and also a deep release. We can greet each other and we are not enemies. It was very simple: We are united in wanting peace and love. As the tent was filling up with many more women until we were about 10,000, this joy was reflected in spontaneous dances that started to erupt in various corners inside the tent. To rhythmic Arab music, we danced together, Palestinian, Israeli, European and whatever more names to a human being you can put, in joyful and respectful and gentle ways.
Not many words needed to be spoken. I  talked to a group of Palestinian women who hardly spoke any English, but we exchanged our names, explained each other their meaning and laughed together. At one point one women asked me if I had children and I said 'no'. They laughed and said 'lucky you'. We laughed. At the end of the conversation one woman took my hands and said: Welcome to Palestine. It was heartfelt, dignified and warm. And a deep pride of the land entered my heart. Another woman told me, she was a Beduine and from the area. She looked poised and very happy.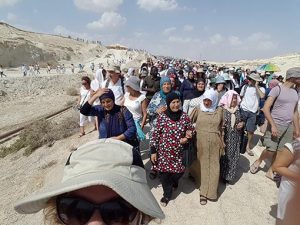 Then, after a very powerful Call for Peace spoken out in very powerful female voices in Hebrew, English and Arabic, we started the March…. It felt like a moment out of the Bible…. Only rewritten into new terms, into a new language, a language of deep conviction based on too many painful experiences of war and aggression on our planet and our deep longing for peacful togetherness. A language that has evolved from a deep knowing that only a conscious practice of recognizing the other from a place of unity was going to bring us true peace. The Women were singing different songs on the way, in Hebrew and Arab – and the joy amongst us was overwhelming.
As we came down the hill towards the main tents, the beautiful dress sculpture of the artist Adi Yekutieli was hanging on the horizon as if to say: Women of the World Unite!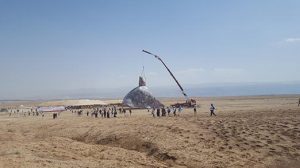 In the two huge tents there were speeches given by various activist, amongst them also Carol Gilligan, Riman Barakat, Dr. Rehab Abed Elhalim and Zeruya Shalev ending with a prayer amongst all the women in the tent. There are details that I could go into here now, but for the sake of not making this a too long blog, I won't. I will just tell you, that this is an event that truly is going into history, let alone the following event in the evening in Jerusalem where 30,000 women joined the March for Peace.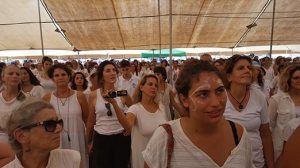 What I am left with? I will never forget the hugs and eye contacts with many women, especially with the Palestinian women that were full of love, hope and joy. Peace starts in our own hearts and in our relationships with our fellow human beings. That settler women, leftwing women, Arab women are ready to hear each other and listen to each other, who are open to hear other people's opinions and are also changing public consciousness that women need to be involved in the peace process and show their true strengths and love for life. Seeing how my friend Yael Treidel works with her fellow sisters, I can see how they are changing the discourse, the language, the language of negotiation that is based on love, respect and dignity and not fear and power. They are making decisions carefully, with diligence and are intuiting that which is not fragmenting the process but that is aligning itself with something deeper and way more human and beautiful than power politics, cynicism, and prejudice.
As Yael Deckelbaum, the impressive lead singer of the movement, says in one of her songs 'Women of the World Unite':  It's time to wake the women from their beauty sleep ….civilization needs a reevaluation and recreation…. We have responsibility for the preservation of life…. Women of the World Unite.
(Here you can also watch the movement song together she created with Miriam Toukan: Prayers of the Mothers)

The meeting with that which is completely different from me forces me to get connected to my root.
by Hadassah Froman (her pregnant daughter in law was attacked by a Palestinian boy in 2016 with a knife.
Then she decided that she just wants to support life per se and became a peace activist).
PS. If you would like to support this next film project you can still do so by clicking here. Thank You!