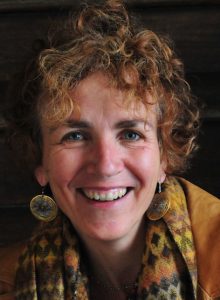 Renata Keller is a filmmaker and graphic designer based in Berlin. She has worked in visual arts for over twenty-five years and was the CEO and art director of the German philosophical quarterly magazine 'evolve' until the end of 2018.
With a master's degree in Applied Imagination at University of Arts in 2006, Renata went on to study documentary filmmaking in London. She runs various Salons in Berlin. Renata's lifelong pursuit of philosophical and spiritual questions, along with her interest in women's development, led her to Gerda Lerner's work and inspired the creation of Why Women Need to Climb Mountains and her meeting with Vimala Thakar and her questions about the values of our times has led her to work on the current film In the Fire of Dancing Stillness. www.verticalimpulse.com

PRODUCTION TEAM
Fabian Koppri (Music and Sound)
Lisa Muzzulini (Editor and Cinematographer)
Sergi Sanchez (Colouring)
Martina Dietrich (Translation)
Nelleke Schuur (Research)
Dominique Gasser (Internship 2018)
More team members will be added as the project prolongs.